41. The Art of Noise - (Who's Afraid of?) The Art of Noise! - Island, 1984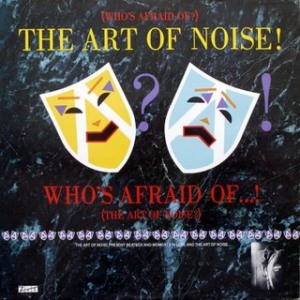 Why I Bought It: I came across the Art of Noise's first two full-lengths in the dollar bin and, barring any particular knowledge of their catalog, opted to buy both of them rather than purchase only the lesser album. Typically I can pull enough information from the album sleeves to determine which album to grab, but the Art of Noise tries their damnedest to dodge specifics. My only prior knowledge about the band was that Anne Dudley collaborated with Killing Joke singer Jaz Coleman on the 1990 world music album Songs from the Victorious City, but despite my Killing Joke fandom, I do not own that release.
Verdict: With one prominent exception, (Who's Afraid of?) The Art of Noise! suffers from the technological stamp of its era. Whereas early hip-hop can overcome reliance on rudimentary sampler techniques on the strength of the rapping, central placement of samplers and sequencers only highlights the Art of Noise's compositional and melodic limitations. Not that AON is alone in this quandary—early Pop Will Eat Itself sounds just as dated, for example—but songs like "Beat Box (Diversion One)" and "Close (to the Edit)" depend on their production techniques sounding innovative to qualify as avant-garde experimentation. (At the very least, they do not feature Max Headroom.) "Close (to the Edit)" features an infuriatingly familiar sample that kept just out of memory until consulting Wikipedia; its stabbing sample was pulled from Yes's "Owner of a Lonely Heart," which AON member Trevor Horn produced. Anne Dudley's fragmented vocals were later sampled for the Prodigy's "Firestarter," furthering this bizarre lineage. The samples featured on the other songs are harder to identify, but sound just as worn out twenty-four years later.
"Moments of Love" is the prominent exception to this rule. Presaging the late night grooves of DJ Shadow's Endtroducing, the ten-minute highlight of the album tones down the jittery samples and trite melodies and focuses on supplementing its solid beat with tasteful keyboards and piano samples. Whereas a future generation of electronic artists could conceivably be inspired by songs like "Beat Box (Diversion One)" and "Close (to the Edit)" without actually sounding like them, the comparative restraint of "Moments of Love" allows it to act as both a structural guide and a sonic template for its progeny. The overall constitution of (Who's Afraid of?) The Art of Noise! hardly encourages me to fast-track In Visible Silence in the RCR queue, but "Moments of Love" justify the two dollar expenditure on the albums.
42. Various Artists - Magic Eye Singles: Blue - Magic Eye, 1996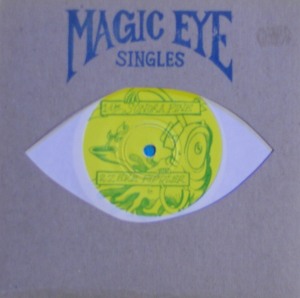 Why I Bought It: I have one other entry in the Magic Eye singles series, the aptly titled Gold (the titles are based on the vinyl color of the first pressing), which features Sonora Pine violinist Samara Lubelski, Team Xiaoping (Soo Young Park and William Shin of Seam), and Yesteryear. I bought that one a long, long time ago and can't remember a damn thing about any of the tracks. This volume features the Sonora Pine, Zeke Fiddler, New Radiant Storm King, and Nord Express, so I grabbed it to hear the Sonora Pine song and to be able to say that I own something by New Radiant Storm King. The first single, which sadly I do not have, includes an exclusive June of 44 song named "1000 Paper Cranes."
An added bonus, this single includes a photocopied postcard from David Berman of the Silver Jews. Responding to Magic Eye's inquiry of his band's availability for the series, Berman writes, "Thanks for asking but I think we're monogamous with Drag City. Sure, we look at other labels on the street, every guy does, but we don't sleep around. Good luck getting started."
Verdict: Magic Eye states that their goal for the series was to "present unreleased songs that are different from those a band usually creates." I read this tagline after listening to the Sonora Pine's contribution, which features only Tara Jane O'Neil and Sean Meadows on guitar and the NYFD on sirens. This short bit of formless guitar squalor sounds nothing like either of the Sonora Pine's albums, so they succeeded with the approach even if they failed to create an enjoyable song. The remaining three tracks are low-key attempts at stripped-down indie rock, with New Radiant Storm King taking an acoustic approach that saps their music of its energy. In a split-single context, I usually expect to gain a sense of what a band actually sounds like, so these four subpar tracks hardly justify subverting that proven approach.
43. Flying Nuns – "Disco Dancing Queen" b/w "Carousel of Freaks" - Summerville, 1992
Why I Bought It: In a surprising coincidence, I listened to the Flying Nuns' Pilot EP on my way up to Mystery Train Records in Gloucester today only to discover one of their early singles in a bin of mid-1990s indie rock seven-inches. I'd even thought about how little I'd listened to "Carousel of Freaks" (120 Minutes where are you?) since it falls on the less-played side B of the excellent Pilot EP, Flying Nuns' only Matador release (they were dropped after the infusion of support from Capitol Records), and voila, it's the flipside of this single. I'd never seen another non-Pilot release from the Flying Nuns before, although I should track down their 1998 self-titled EP and their 2002 full-length Everything's Impossible Now These Days given my fondness for their catchy and meaty post-punk.
Verdict: These two songs feature a poppier side of Flying Nuns, with higher register vocals and less force from the rhythm section. "Disco Dancing Queen" has a predictable lightness given its title and the Galaxie 500-citing "Carousel of Freaks" fits with this mood better than the urgent "Submarine" or "Frank" would have. Now I just need to track down their later releases.
44. To Rococo Rot + D - "Smaller Listening" b/w "Numbers in Love" – Soul Static Sound, 2000
Why I Bought It: The graceful melody of "Die Dinge des Lebens" from To Rococo Rot's 1999 full-length The Amateur View skips through my head every few months, sometimes inspired by its usage as the background for Björk's "It's in Our Hands" single. Yet I've never picked up any of their other material, despite seeing their collaboration with I-Sound (Music Is a Hungry Ghost) in used CD bins across the country.
Verdict: Whoops. Credit with Soul Static Sound abstract electronic artist D with the direction (or lack thereof) for these two songs, since these whirring, anti-melodic tracks couldn't sound less like The Amateur View. Typically I'm embarrassed when I can't tell the proper speed for a single, but these songs gave me no instrumental clues and aren't interesting enough to merit concern. After flipping between 33 rpm and 45 rpm on both songs, I settled on the former speed since it annoyed me less. "Numbers in Love" is slightly better than "Smaller Listening," but I can't imagine pulling this one out of my singles box any time soon.
45. The C. S. Angels - Chasing Shadows - Island, 1986
Why I Bought It: Silkworm's cover of "Our Secret" led to my purchase of It's History, a semi-legal reissue box set of the Comsat Angels' Waiting for a Miracle, Sleep No More, and Fiction. Those three albums should be your starting point for the group, particularly the haunting post-punk of Sleep No More (which I finally tracked down on LP a few months ago), but former Silkworm member Joel R. L. Phelps' cover of "Lost Continent" on Blackbird made me wonder about the group's mid '80s synth-pop phase. Phelps' utmost sincerity and musical stoicism help his version of "Lost Continent" transcend its potentially cheesy lyrical content ("I'm looking for the same thing as you / The lost continent of love"), but tracking down the original on Audiogalaxy years ago only served to increase my appreciation of the cover. I couldn't find the rest of Chasing Shadows online and stopped looking years ago after a picture disc for "Will You Stay Tonight" from 1983's Land tempered my enthusiasm. Finding Chasing Shadows in the understock of Record Exchange in Salem, MA renewed my curiosity, so I snapped it up. After all, I own Killing Joke's synth-driven albums—even the almost universally loathed Outside the Gate—so taking a chance on Chasing Shadows didn't seem too preposterous.
Verdict: As it turns out, the Comsat Angels' would-be sell-out synth-pop album is 1985's 7 Day Weekend, given the inclusion of "I'm Falling" on the soundtrack to the Val Kilmer popcorn epic Real Genius. Chasing Shadows followed that record with a number of key changes—the group was forced to shorten their name in the United States to the C. S. Angels by a lawsuit from the Communications Satellite Corporation, dropped from Jive Records following a disappointing push to pop stardom with Land and 7 Day Weekend, and snapped up by Island Records at the behest of fan and snappy dresser Robert Palmer.
Yes, that Robert Palmer. He's the album's "executive producer" and contributes backing vocals for "You'll Never Know." Game over, right?
Not quite. Chasing Shadows lacks urgency and energy, but its dour moodiness does recall the pallor of their early post-punk records. The keyboards are minimal—hell, almost everything is minimal—and Robert Palmer's guest vocal is barely noticeable. Whereas "Lost Continent" sounded out of place with regard to their earlier work, its teetering optimism is downright necessary on this album. Stephen Fellows seems worn down from the group's troubles, singing "It's a slave with a whip and it will beat you / Chasing shadows, running ragged, going round and round" on the title track, "I can't wait for pennies from above" on "You'll Never Know," and "When every word fans the flames / All you can do is pray for rain" on "Pray for Rain." Most of the eight songs linger past the five-minute mark and this nearly relentless melancholy grows tiresome by album's end. Without the nervous twitches of early singles like "Independence Day" (although this is the Land version) or "Eye of the Lens" or the abbreviated hooks of their foray into synth-pop to vary the pace, the Comsat Angels get too bogged down in their atmosphere for their own good.
Chasing Shadows may not qualify as a true return to form, but it's intriguing enough to justify the purchase. "The Thought that Counts," "Lost Continent," "Flying Dreams," and "Pray for Rain" are individually solid blends of post-punk and moody new wave, but the band's troubles fundamentally altered their constitution. The cover of the US version of Chasing Shadows has the "om" and the "at" in the band name scratched away, which seems apt given the missing elements of their sound.